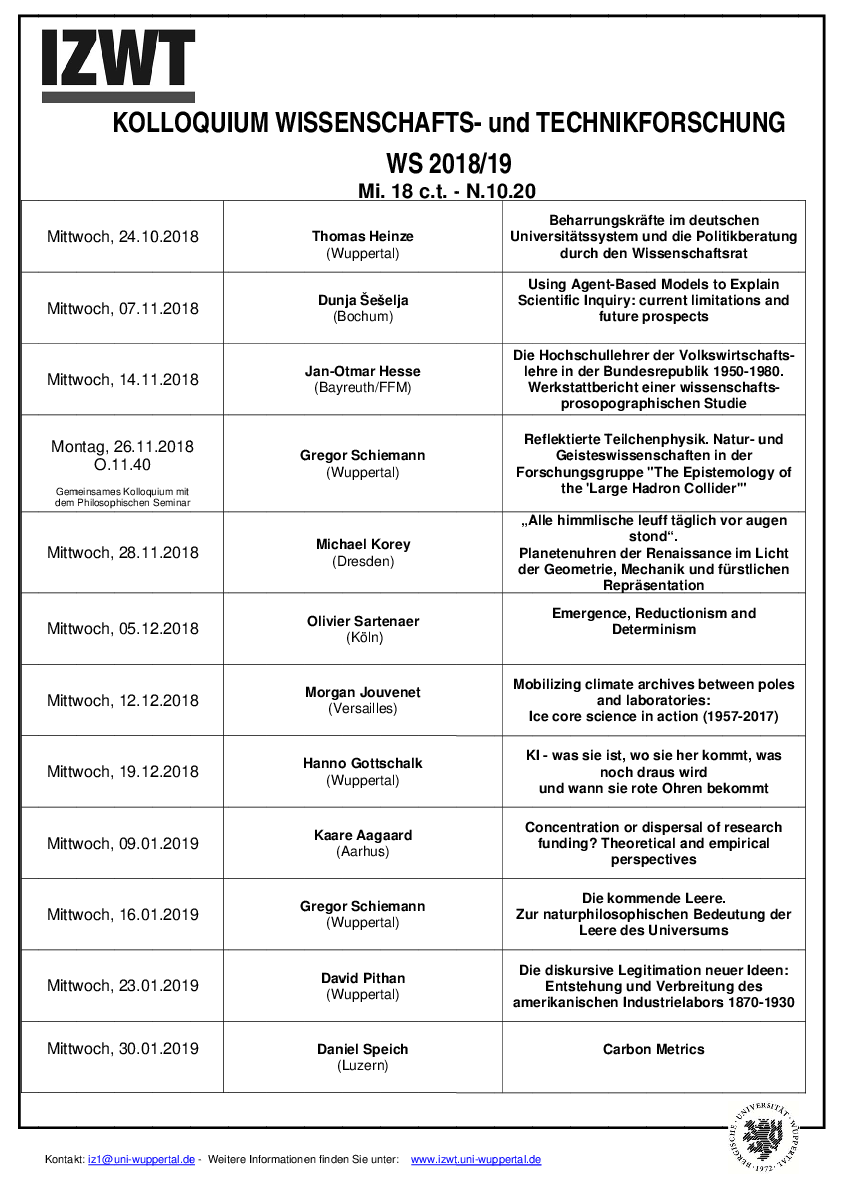 COLLOQUIUM THEORY OF SCIENCE AND HISTORY OF SCIENCE
Thomas Heinze
Volker Remmert
Gregor Schiemann
Klaus Volkert


Wednesday 18 c.t.
Room N.10.20 (Building N, Level 10, Room 20)
Campus Grifflenberg, Gaußstr. 20, 42119 Wuppertal
Im Kolloquium werden aktuelle Forschungsthemen aus Wissenschafts- und Technikforschung diskutiert. Die einzelnen Vorträge werden auf Plakaten und mit Aushängen sowie auf der Homepage des IZWT angekündigt. Um Beachtung dieser Informationen wird gebeten.
Lectures:
24.10.2018
Thomas Heinze (Wuppertal):
Beharrungskräfte im deutschen Universitätssystem und die Politikberatung durch den Wissenschaftsrat
07.11.2018
Dunja Šešelja (Bochum):
Using Agent-Based Models to Explain Scientific Inquiry: current limitations and future prospects
14.11.2018
Jan-Otmar Hesse (Bayreuth/FFM):
Die Hochschullehrer der Volkswirtschafts-lehre in der Bundesrepublik 1950-1980. Werkstattbericht einer wissenschafts-prosopographischen Studie
MONDAY 26.11.2018
in Room O.11.40 (Building O, Level 11, Room 40)
corporate colloquium with the 'Philosophisches Semeniar'

Gregor Schiemann (Wuppertal):
Reflektierte Teilchenphysik. Natur- und Geisteswissenschaften in der Forschungsgruppe "The Epistemology of the 'Large Hadron Collider'"
28.11.2018
Michael Korey (Dresden):
"Alle himmlische leuff täglich vor augen stond". Planetenuhren der Renaissance im Licht der Geometrie, Mechanik und fürstlichen Repräsentation
05.12.2018
Olivier Sartenaer (Köln):
Emergence, Reductionism and Determinism
12.12.2018
Morgan Jouvenet (Versailles):
Mobilizing climate archives between poles and laboratories: Ice core science in action (1957-2017)
19.12.2018
Hanno Gottschalk (Wuppertal):
KI - was sie ist, wo sie her kommt, was noch draus wird und wann sie rote Ohren bekommt
09.01.2019
Kaare Aagaard (Aarhus):
Concentration or dispersal of research funding? Theoretical and empirical perspectives
16.01.2019
Gregor Schiemann (Wuppertal):
Die kommende Leere. Zur naturphilosophischen Bedeutung der Leere des Universums
23.01.2019
David Pithan (Wuppertal):
Die diskursive Legitimation neuer Ideen: Entstehung und Verbreitung des amerikanischen Industrielabors 1870-1930
30.01.2019
Daniel Speich Chassé (Luzern):
CO2 als Mass aller Dinge. Historrische Überlegungen zur Quantifizierung und zur Ökonoomisierung