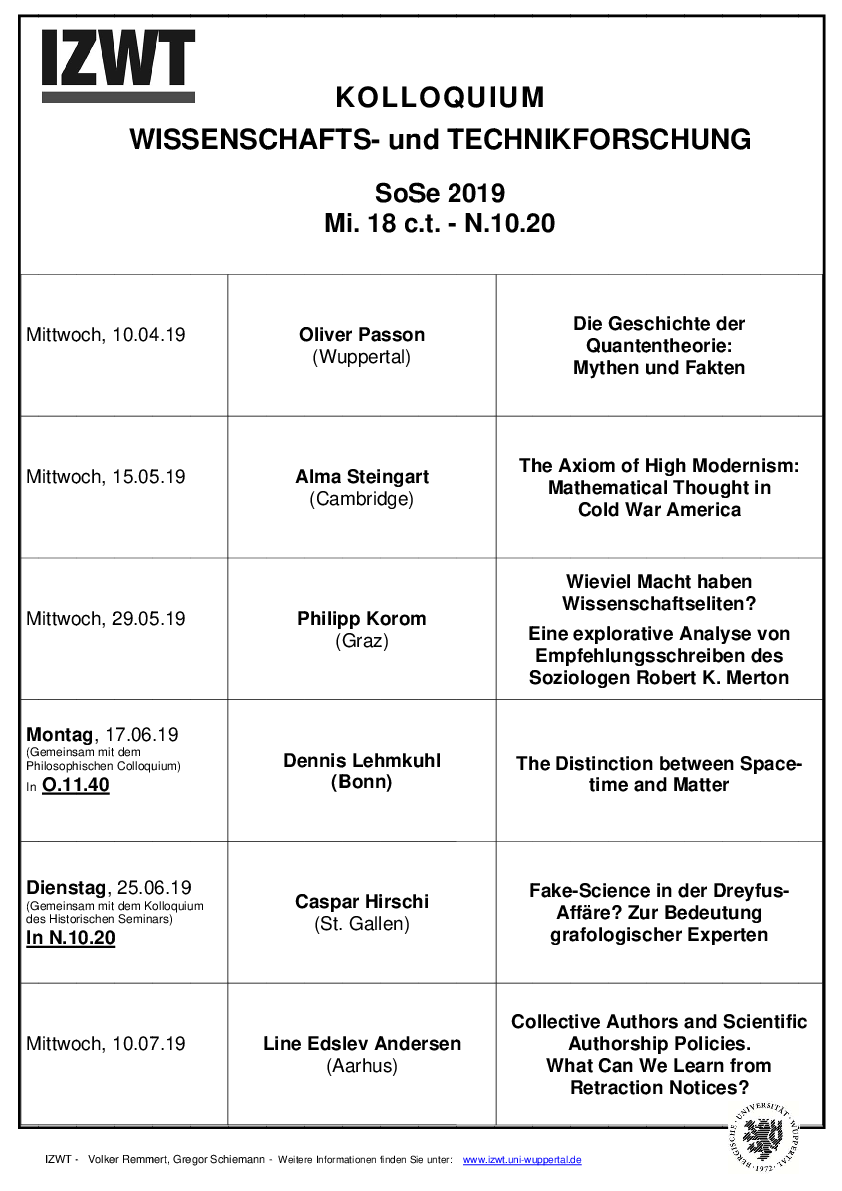 COLLOQUIUM THEORY OF SCIENCE AND HISTORY OF SCIENCE
Thomas Heinze
Volker Remmert
Gregor Schiemann
Klaus Volkert


Wednesday 18 c.t.
Room N.10.20 (Building N, Level 10, Room 20)
Campus Grifflenberg, Gaußstr. 20, 42119 Wuppertal
Im Kolloquium werden aktuelle Forschungsthemen aus Wissenschafts- und Technikforschung diskutiert. Die einzelnen Vorträge werden auf Plakaten und mit Aushängen sowie auf der Homepage des IZWT angekündigt. Um Beachtung dieser Informationen wird gebeten.
Lectures:
10.04.2019
Oliver Passon (Wuppertal):
Die Geschichte der Quantentheorie: Mythen und Fakten
15.05.2019
Alma Steingart (Cambridge):
The Axiom of High Modernism: Mathematical Thought in Cold War Amrica
29.05.2019
Philipp Korom (Graz):
Wie viel Macht haben Wissenschaftseliten? Eine explorative Analyse von Empfehlungsschhreiben des Soziologen Robert K. Merton
Monday, 17.06.2019, Room O.11.40
(Gemeinsames IZWT-Kolloquium mit dem Philosophischen Kolloquium)
Dennis Lehmkuhl (Bonn):
The Distinction between Space-time and Matter
Tuesday, 25.06.19, Raum N.10.20
(Gemeinsames IZWT-Kolloquium mit dem Kolloquium des Historischen Seminars)
Caspar Hirschi (St. Gallen):
Fake-Science in der Dreyfus-Affäre? Zur Bedeutung grafologischer Experten
10.07.2019
Line Edslev Andersen (Aarhus):
Collective Authors and Scientific Authorship Policies. What Can We Learn from Retraction Notices?