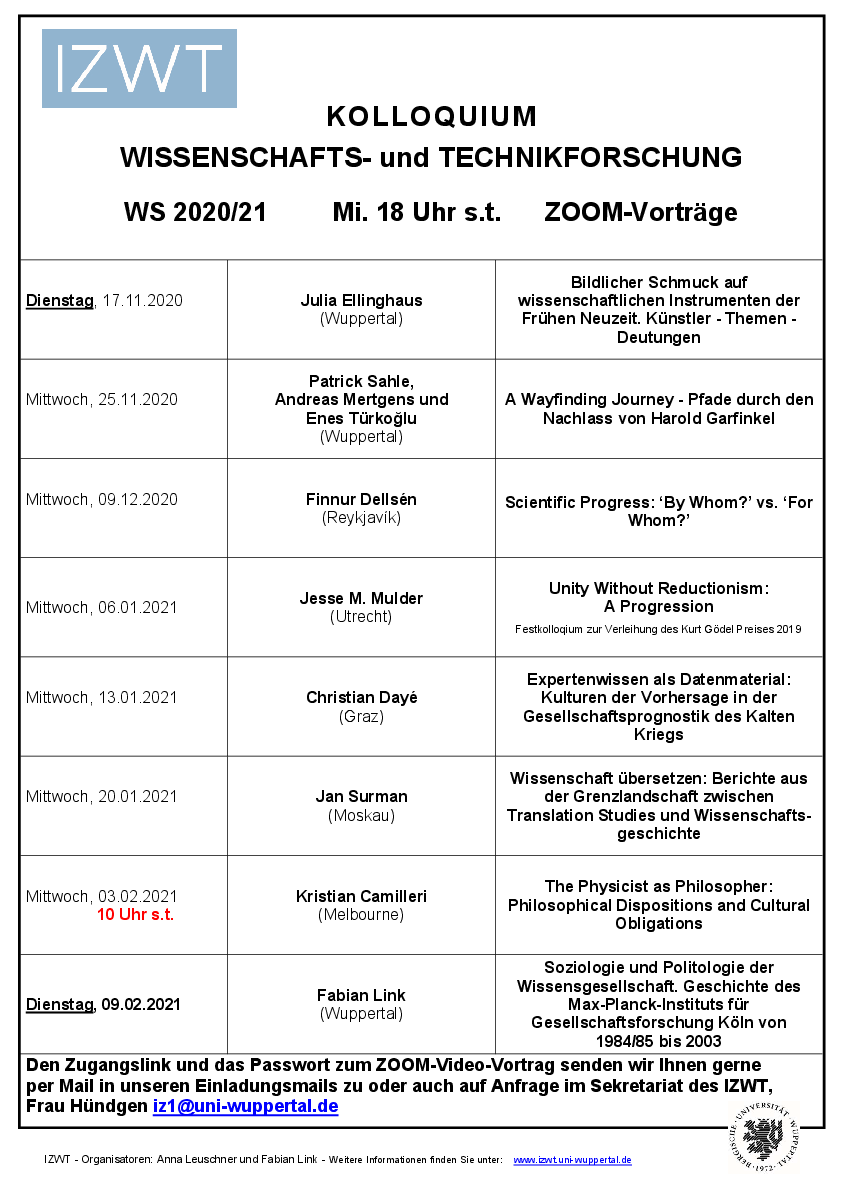 COLLOQUIUM THEORY OF SCIENCE AND HISTORY OF SCIENCE
Thomas Heinze
Volker Remmert

The colloquium will discuss current research topics from science and technology. The necessary information about each lecture will be provided via placards, posters, and the IZWT's homepage.
---
LECTURES
Dienstag, 17.11.2020
Julia Ellinghaus (Wuppertal)
Bildlicher Schmuck auf wissenschaftlichen Instrumenten der Frühen Neuzeit. Künstler - Themen - Deutungen
25.11.2020
Patrick Sahle, Andreas Mertgens und Enes Türkoğlu (Wuppertal)
A Wayfinding Journey - Pfade durch den Nachlass von Harold Garfinkel
09.12.2020
Finnur Dellsén (Reykjavík)
Scientific Progress: 'By Whom?' vs. 'For Whom?'
06.01.2021
Jesse M. Mulder (Utrecht)
Unity Without Reductionism: A Progression. Festkolloquium zur Verleihung des Kurt Gödel Preises 2019
13.01.2021
Christian Dayé (Graz)
Expertenwissen als Datenmaterial: Kulturen der Vorhersage in der Gesellschaftsprognostik des Kalten Kriegs
20.01.2021
Jan Surman (Moskau)
Wissenschaft übersetzen: Berichte aus der Grenzlandschaft zwischen Translation Studies und Wissenschaftsgeschichte
03.02.2021, 10 Uhr s.t.
Kristian Camilleri (Melbourne)
The Physicist as Philosopher: Philosophical Dispositions and Cultural Obligations
Dienstag, 09.02.2021
Fabian Link (Wuppertal)
Soziologie und Politologie der Wissensgesellschaft. Geschichte des Max-Planck-Instituts für Gesellschaftsforschung Köln von 1984/85 bis 2003