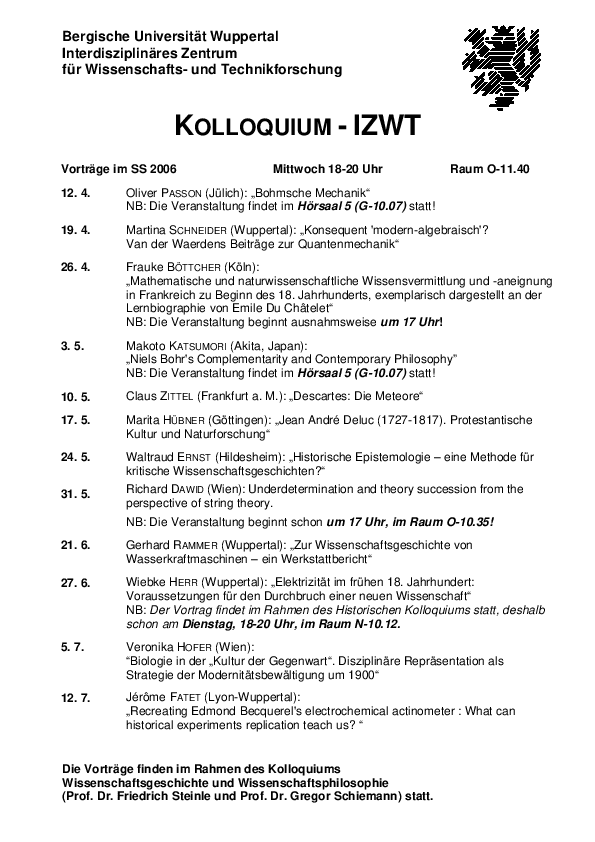 Colloquium History and Theorie of Science
Im Sommersemester 2006 werden im Rahmen des Kolloquiums Wissenschaftsgeschichte und Wissenschaftsphilosophie Forschungsprojekte von IZWT-Mitgliedern und auswärtigen Gästen vorgestellt und diskutiert.
Die Kolloquia finden jeweils am Mittwoch, 18-20 Uhr, im Raum O-11.40 statt.
12.04.06 Oliver Passon (Forschungszentrum Jülich)
Bohmsche Mechanik
NB: Die Veranstaltung findet im Hörsaal 5 (G-10.07) statt!
19.04.06 Martina Schneider (Wuppertal)
Konsequent 'modern-algebraisch' ? Van der Waerdens Beiträge zur
Quantenmechanik
26.04.06 Frauke Böttcher (Köln)
Mathematische und naturwissenschaftliche Wissensvermittlung und -aneignung in
Frankreich zu Beginn des 18. Jahrhunderts, exemplarisch dargestellt an der
Lernbiographie von Emile Du Châtelet
NB: Die Veranstaltung beginnt ausnahmsweise um 17Uhr!
03.05.06 Makoto Katsumori (Akita, Japan)
Niehls Bohr's Complementarity and Contemporary Philosophy
NB: Die Veranstaltung findet im Hörsaal 5 (G-10.07) statt!
10.05.06 Claus Zittel (Frankfurt am Main)
Descartes: Die Meteore
17.05.06 Marita Hübner (Göttingen)
Jean André Deluc (1727-1817). Protestantische Kultur und Naturforschung
24.05.06 Waltraud Ernst (Hildesheim)
Historische Epistemologie - eine Methode für kritische Wissenschaftsgeschichten?
31.05.06 Richard Dawid (Wien)
Underdetermination and theory succession from the perspective of string theory
21.06.06 Gerhard Rammer (Wuppertal)
Zur Wissenschaftsgeschichte von Wasserkraftmaschinen - ein Werkstattbericht
27.06.06 Wiebke Herr (Wuppertal)
Elektrizität im frühen 18. Jahrhundert: Voraussetzungen für den Durchbruch einer
neuen Wissenschaft
NB: Der Vortrag findet im Rahmen des Historischen Kolloquiums statt, deshalb schon am Dienstag, 18-20 Uhr, im Raum N-10.12
05.07.06 Veronika Hofer (Wien)
Der Beitrag des Genetikers Felix Mainx zur Biologie im Kontext des Logischen
Empirismus
12.07.06 Jérôme Fatet (Lyon / Wuppertal)
Recreating Edmond Becquerel's electrochemical actinometer: What can historical
experiments replication teach us?