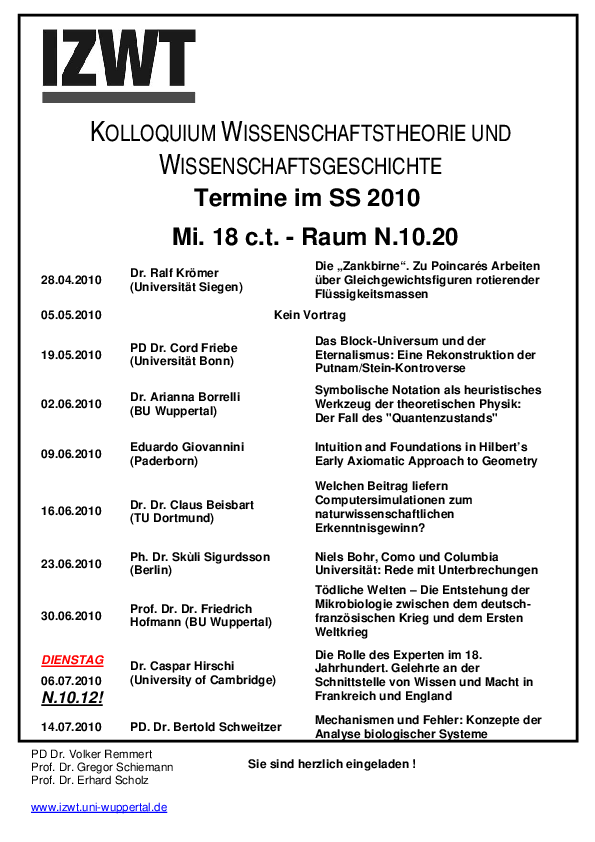 Colloquium History and Theorie of Science
Wednesday, 18-20 c.t., Room N. 10. 20
28.04.2010 Dr. Ralf Krömer (Universität Siegen): N.N.
05.05.2010 Kein Vortrag
19.05.2010 PD Dr. Cord Friebe (Universität Bonn): Das Block-Universum und der Eternalismus: Eine Rekonstruktion der Putnam/Stein-Kontroverse
02.06.2010 Arianna Borrelli (BU Wuppertal): Symbolische Notation als heuristisches
Werkzeug der theoretischen Physik: Der Fall des "Quantenzustands"
09.06.2010 Eduardo Giovanninni (Paderborn): Intuition and Foundations in Hilbert's Early Axiomatic Approach to Geometry
16.06.2010 Dr. Dr. Claus Beisbart (TU Dortmund): Welchen Beitrag liefern Computersimulationen zum
naturwissenschaftlichen Erkenntnisgewinn?
23.06.2010 Ph. D. Skùli Sigurdsson (Berlin): N.N.
30.06.2010 Prof. Dr. Dr. Friedrich Hofmann (BU Wuppertal): Tödliche Welten – Die Entstehung der Mikrobiologie zwischen dem deutschfranzösischen Krieg und dem Ersten Weltkrieg
06.07.2010 (Dienstag in N.10.12!) Dr. Caspari Hirschi (University of Cambridge): Die Rolle des Experten im 18. Jahrhundert. Gelehrte an der Schnittstelle von Wissen und Macht in Frankreich und England
14.07.2010 PD Dr. Bertold Schweitzer (American University in Cairo): Mechanismen und Fehler: Konzepte der Analyse biologischer Systeme