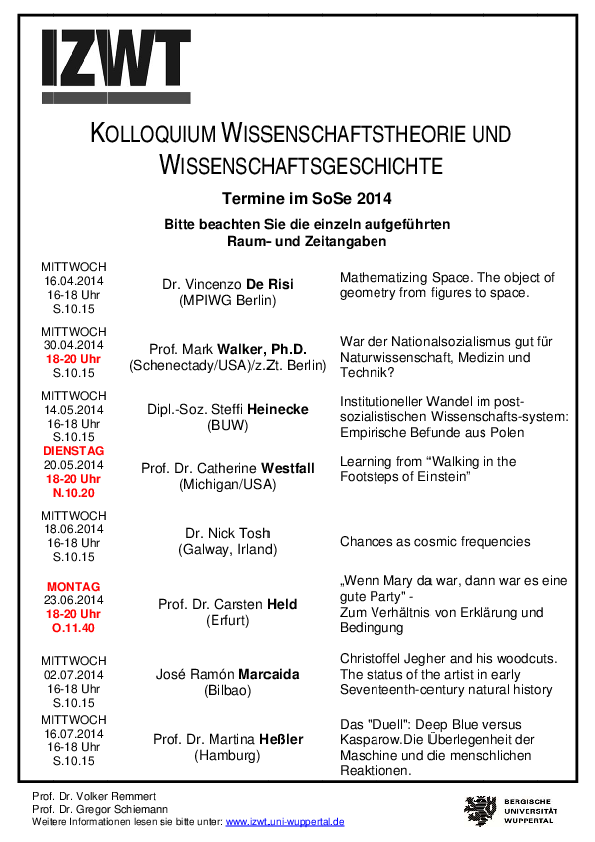 COLLOQUIUM THEORY OF SCIENCE AND HISTORY OF SCIENCE
Prof. Dr. Volker Remmert
Prof. Dr. Gregor Schiemann
Please note the listed individually spatial and temporal information!
Im Kolloquium werden aktuelle Forschungsthemen aus Wissenschaftsgeschichte und -theorie diskutiert. Die einzelnen Vorträge werden auf Plakaten und mit Aushängen sowie auf der Homepage des IZWT (http://www.izwt.uni-wuppertal.de/) angekündigt. Um Beachtung dieser Informationen wird gebeten.
Lectures:
Wednesday 04/16/2014, 4-6 p.m., S.10.15

Dr. Vincenzo De Risi (MPIWG Berlin):
Mathematizing Space. The object of geometry from figures to space.
Wednesday 04/30/2014, 6-8 p.m., S.10.15

Prof. Dr. Mark Walker (Schenectady (USA)/Berlin):
War der Nationalsozialismus gut für Naturwissenschaft, Medizin und Technik?
Wednesday 05/14/2014, 4-6 p.m., S.10.15
Dipl.-Soz. Steffi Heinecke (Wuppertal):
Institutioneller Wandel im postsozialistischen Wissenschaftssystem: Empirische Befunde aus Polen
Tuesday 05/20/2014, 6-8 p.m., N.10.20
Dr. Catherine Westfall (Michigan State University, USA):
Learning from "Walking in the Footsteps of Einstein"
Wednesday 06/18/2014, 4-6 p.m., S.10.15
Dr. Nick Tosh (Galway, Irland):
Chances as cosmic frequencies
Monday 06/23/2014, 6-8 p.m., O.11.40
Prof. Dr. Carsten Held (Erfurt):
"Wenn Mary da war, dann war es eine gute Party"
Zum Verhältnis von Erklärung und Bedingung
Wednesday 07/02/2014, 4-6 p.m., S.10.15

José Ramón Marcaida (Bilbao):
Christoffel Jegher and his woodcuts. The status of the artist in early Seventeenth-century natural history
Wednesday 07/16/2014, 4-6 p.m., S.10.15

Prof. Dr. Martina Hessler (Frankfurt):
Das "Duell": Deep Blue versus Kasparow. Die Überlegenheit der Maschine und die menschliche Reaktion.