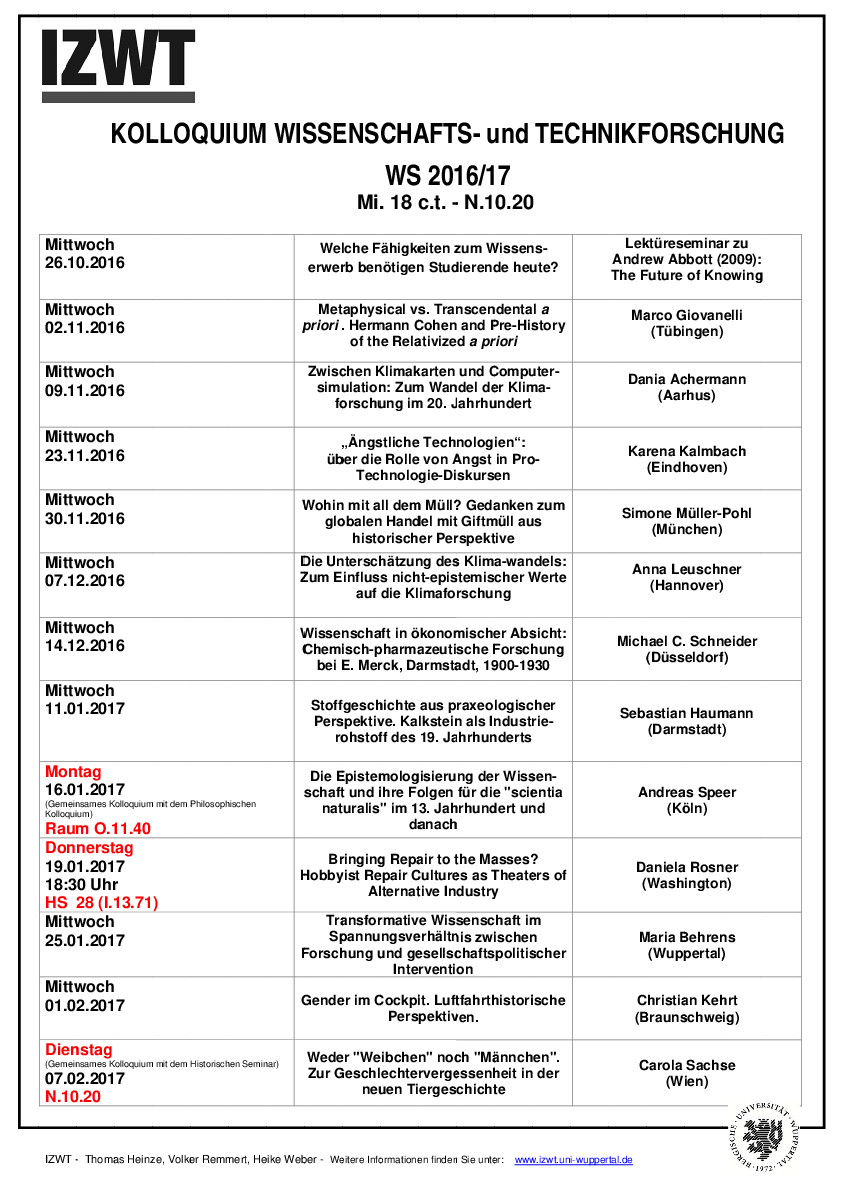 COLLOQUIUM THEORY OF SCIENCE AND HISTORY OF SCIENCE
Thomas Heinze
Volker Remmert
Gregor Schiemann
Klaus Volkert
Heike Weber
Wednesday 18 c.t.
Room N.10.20 (Building N, Level 10, Room 20)
Campus Grifflenberg, Gaußstr. 20, 42119 Wuppertal
Im Kolloquium werden aktuelle Forschungsthemen aus Wissenschafts- und Technikforschung diskutiert. Die einzelnen Vorträge werden auf Plakaten und mit Aushängen sowie auf der Homepage des IZWT angekündigt. Um Beachtung dieser Informationen wird gebeten.
Lectures:
October 26th, 2016
Lektüreseminar zu Andrew Abbott (2009): The Future of Knowing
Welche Fähigkeiten zum Wissenserwerb benötigen Studierende heute?
November 2nd, 2016
Marco Giovanelli (Universität Tübingen):
Metaphysical vs. Transcendental a priori. Hermann Cohen and Pre-History of the Relativized a priori
November 9th, 2016
Dania Achermann (Aarhus):
Zwischen Klimakarten und Computer-simulation: Zum Wandel der Klimaforschung im 20. Jahrhundert
November 23rd, 2016
Karena Kalmbach (Eindhoven):
"Ängstliche Technologien": über die Rolle von Angst in Pro-Technologie-Diskursen
November 30th, 2016
Simone Müller-Pohl (München):
Wohin mit all dem Müll? Gedanken zum globalen Handel mit Giftmüll aus historischer Perspektive
December 7th, 2016
Anna Leuschner (Hannover):
Die Unterschätzung des Klima-wandels: Zum Einfluss nicht-epistemischer Werte auf die Klimaforschung
December 14th, 2016
Michael C. Schneider (Düsseldorf):
Wissenschaft in ökonomischer Absicht: Chemisch-pharmazeutische Forschung bei E. Merck, Darmstadt, 1900-1930
January 11th, 2017
Sebastian Haumann (Darmstadt):
Stoffgeschichte aus praxeologischer Perspektive. Kalkstein als Industrie-rohstoff des 19. Jahrhunderts
Monday, January 16th, 2017, O.11.40
Andreas Speer (Köln):
Die Epistemologisierung der Wissenschaft und ihre Folgen für die "scientia naturalis" im 13. Jahrhundert und danach

Thursday, January 19th, 2017, 6.30 pm, HS 28 (I.13.71)
Daniela Rosner (University of Washington):
Bringing Repair to the Masses? Hobbyist Repair Cultures as Theaters of Alternative Industry

January 25th, 2017
Maria Behrens (Wuppertal):
Transformative Wissenschaft im Spannungsverhältnis zwischen Forschung und gesellschaftspolitischer Intervention

February 1st, 2017
Christian Kehrt (Braunschweig):
Gender im Cockpit. Luftfahrthistorische Perspektiven.
Tuesday, February 7th, 2017 (Gemeinsames Kolloquium mit dem Historischen Seminar)
Carola Sachse (Wien):
Weder "Weibchen" noch "Männchen". Zur Geschlechtervergessenheit in der neuen Tiergeschichte