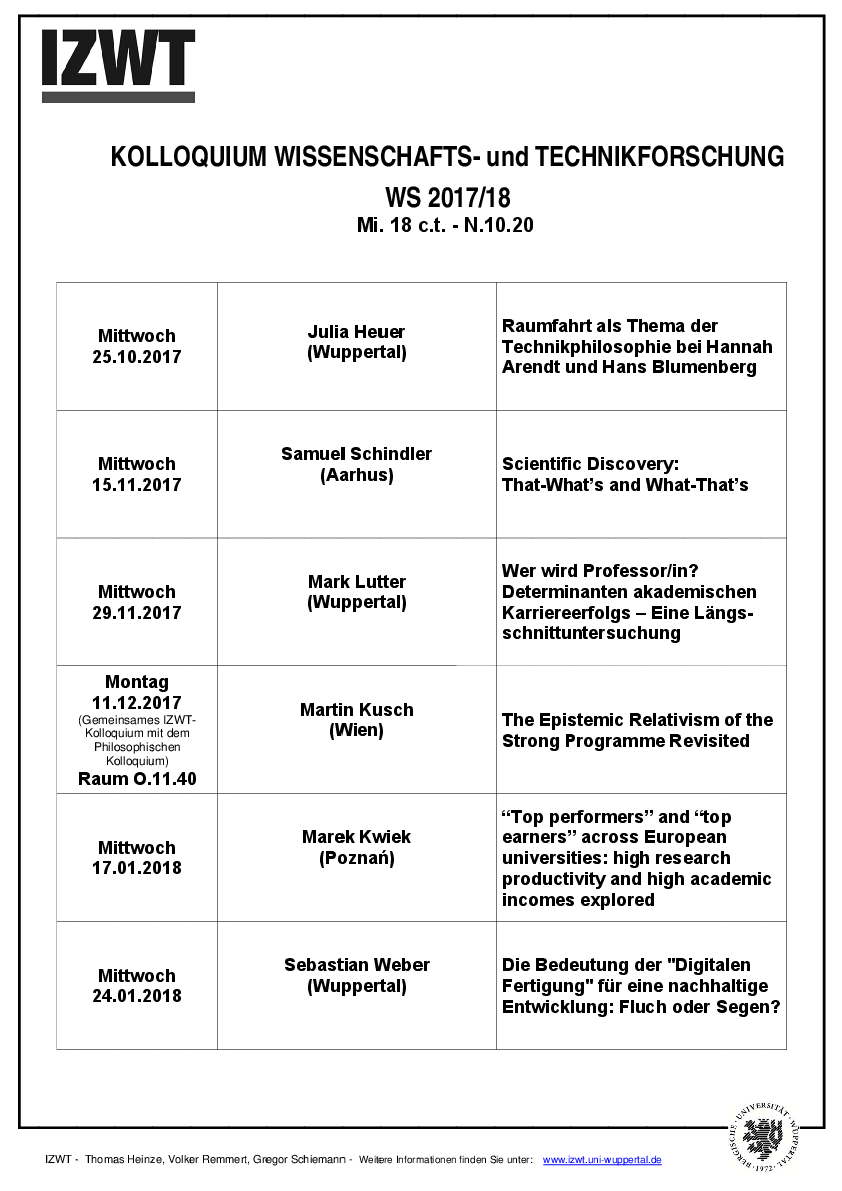 COLLOQUIUM THEORY OF SCIENCE AND HISTORY OF SCIENCE
Thomas Heinze
Volker Remmert
Gregor Schiemann
Klaus Volkert


Wednesday 18 c.t.
Room N.10.20 (Building N, Level 10, Room 20)
Campus Grifflenberg, Gaußstr. 20, 42119 Wuppertal
Im Kolloquium werden aktuelle Forschungsthemen aus Wissenschafts- und Technikforschung diskutiert. Die einzelnen Vorträge werden auf Plakaten und mit Aushängen sowie auf der Homepage des IZWT angekündigt. Um Beachtung dieser Informationen wird gebeten.
Lectures:
October 25th, 2017
Julia Heuer (Wuppertal):
Raumfahrt als Thema der Technikphilosophie bei Hannah Arendt und Hans Blumenberg
November 15th, 2017
Samuel Schindler (Aarhus):
Scientific Discovery: That-What's and What-That's
November 29th, 2017
Mark Lutter (Wuppertal):
Wer wird Professor/in? Determinanten akademischen Karriereerfolgs – Eine Längs-schnittuntersuchung
Monday, December 11th, 2017, Room O.11.40
(Gemeinsames IZWT-Kolloquium mit dem Philosophischen Kolloquium)
Martin Kusch (Wien):
The Epistemic Relativism of the Strong Programme Revisited
January 17th, 2018
Marek Kwiek (Poznań):
"Top performers" and "top earners" across European universities: high research productivity and high academic incomes explored

January 24th, 2018
Sebastian Weber (Wuppertal):
Die Bedeutung der "Digitalen Fertigung" für eine nachhaltige Entwicklung: Fluch oder Segen?