Conferences and Workshops 2015
Jesuit Science from a Digital Perspective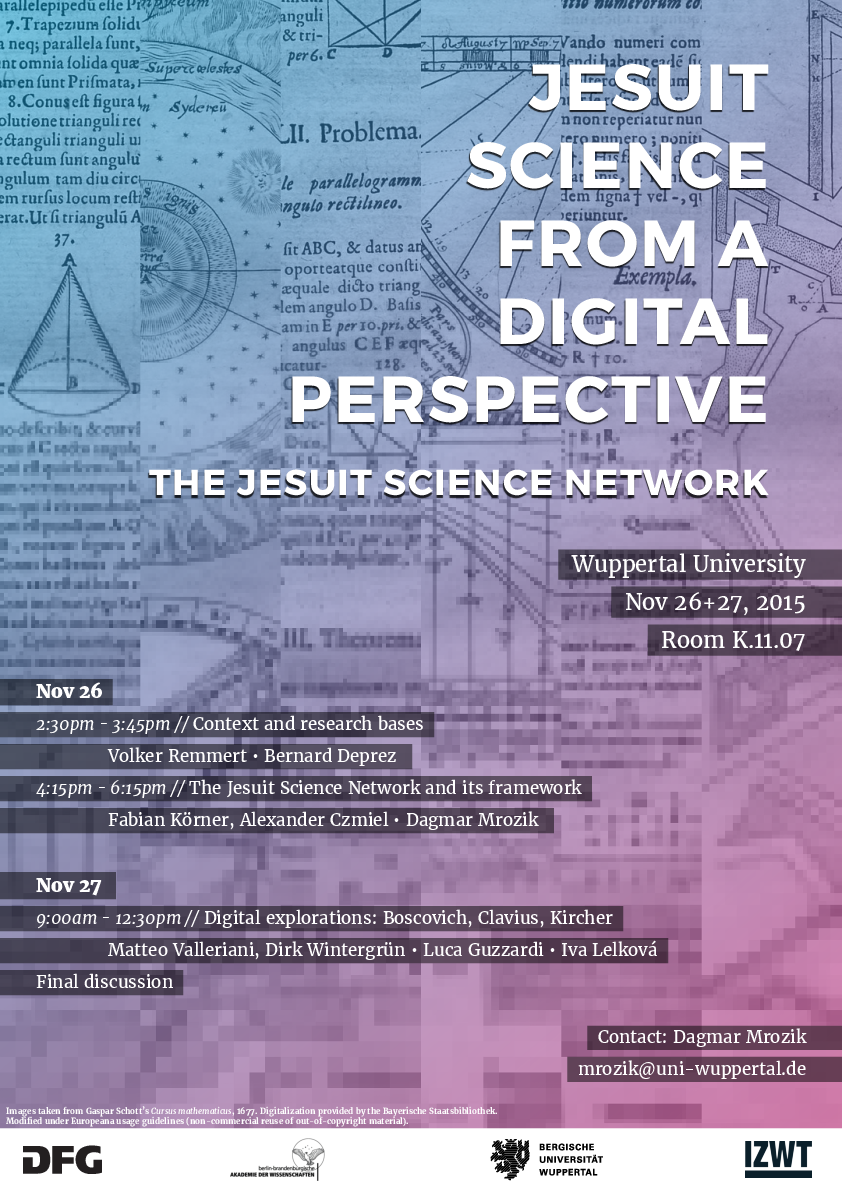 The Jesuit Science Network
Workshop
November 26th & 27th, 2015
Wuppertal University
Dagmar Mrozik, Volker Remmert
History of Science and Technology
Interdisciplinary Centre for Science and Technology Studies (IZWT)
Wuppertal University
For further information, please contact Dagmar Mrozik at mrozik[at]uni-wuppertal.de.
10 Jahre IZWT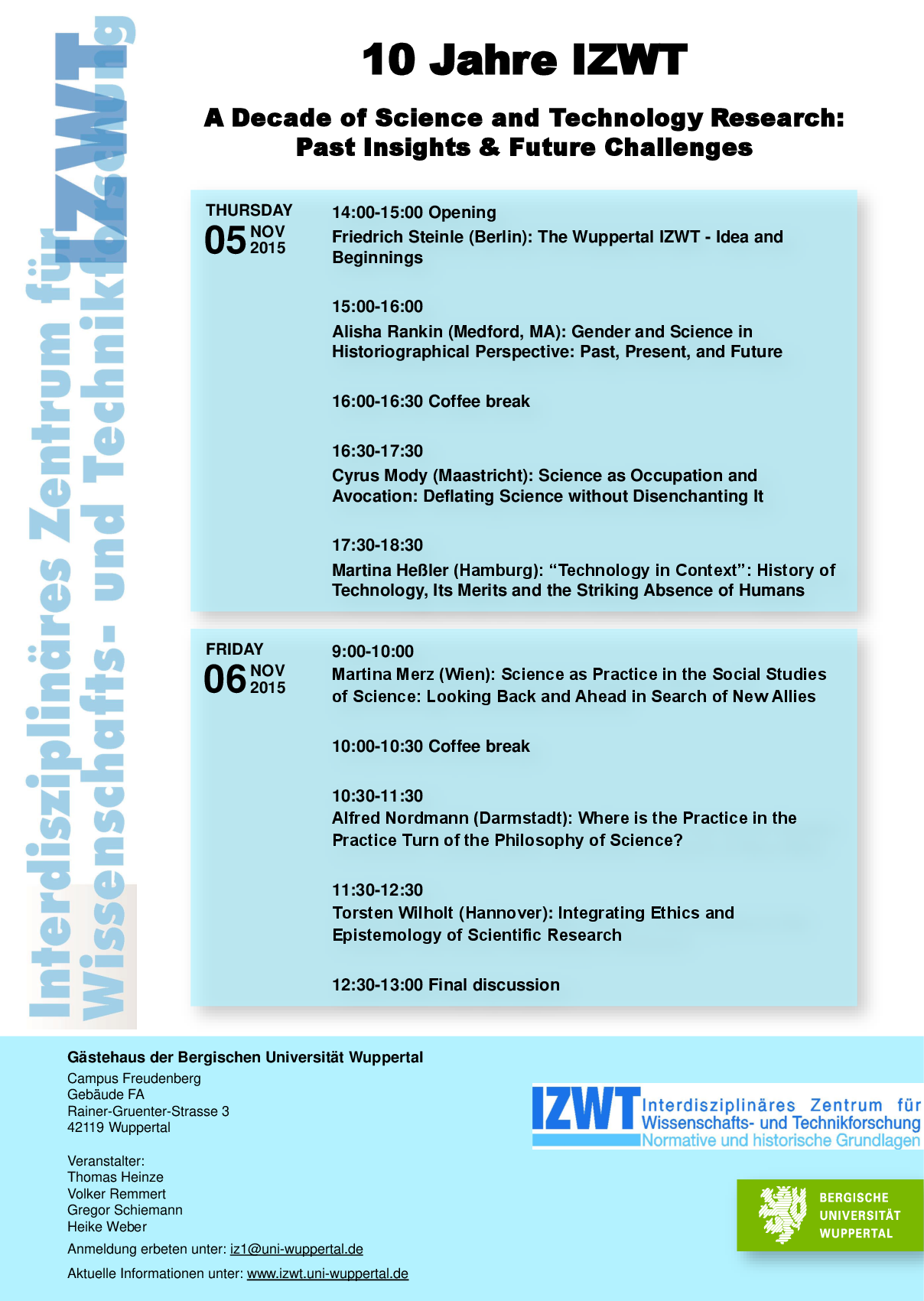 A Decade of Science and Technology Research: Past Insights & Future Challenges
November 5th & 6th, 2015
Workshop at the Gästehaus of the Bergische Universität Wuppertal
Campus Freudenberg
Gebäude FA
Rainer-Gruenter-Strasse 3
42119 Wuppertal
Veranstalter:
Thomas Heinze
Volker Remmert
Gregor Schiemann
Heike Weber
Anmeldung erbeten unter: iz1[at]uni-wuppertal.de
Aktuelle Informationen unter: www.izwt.uni-wuppertal.de
Science meets Art
September 25, 2015
Gästehaus,
Campus Freudenberg
Bergische Universität Wuppertal
Die zweite Tagung der NRW-Delegation der Gesellschaft der spanischen Forscher in Deutschland (CERFA) findet am 25. September nachmittags im Gästehaus am Freudenberg statt - mit dem Ziel, die Forschergemeinden Deutschlands und Spaniens einander anzunähern und aktuelle Projekte und Ergebnisse einer breiteren Öffentlichkeit vorzustellen.
Das Thema lautet "Science meets Art" - Wissenschaft trifft Kunst. Die Tagungssprachen sind Englisch und Deutsch. Auf dem Programm stehen so vielfältige Themen wie die Geburt eines Sterns aus Eis und Staub (Guillem Aumatell, Astrophysik, Universität Duisburg-Essen), die Mond-Kartographie des 19. Jahrhunderts (Carmen Pérez González, IZWT, Bergische Universität), die Schönheit in der Mathematik (Andreas Bartel, Angewandte Mathematik/Numerische Analysis, Bergische Universität), Innovation und Technologie in antiken Kulturen (Carlos Martín, Institut für Archäologische Wissenschaften, Universität Bochum) und schliesslich Nano-Kunst (Raquel Fiz, Anorganische Chemie, Universität zu Köln/BASF). Abgerundet wird dieses Programm durch eine Fotoausstellung von Natalia Balcázar (EnviroPro, Umwelt- und Energieberatung).
Duality in contemporary mathematics — philosophical aspects
September 3-5, 2015
Workshop at the Bergische Universität Wuppertal
organized by David Corfield and Ralf Krömer.
All further information can be found here.