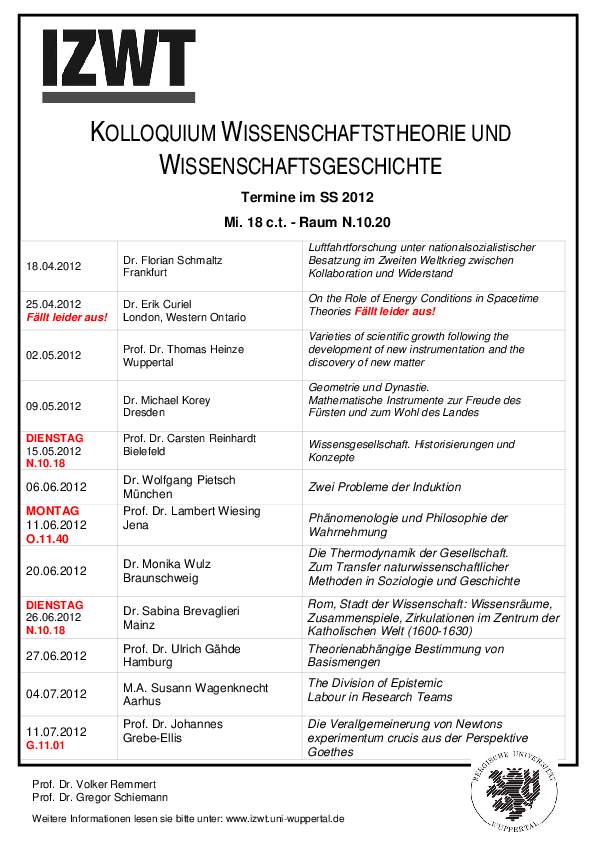 Colloquium Theory of Science and History of Science
Prof. Dr. Volker Remmert
Prof. Dr. Gregor Schiemann
Wednesday 18 c.t.
Room N.10.20 (Building N, Level10, Room 20)
Campus Grifflenberg, Gaußstr. 20, 42119 Wuppertal
Im Kolloquium werden aktuelle Forschungsthemen aus Wissenschaftsgeschichte und -theorie diskutiert. Die einzelnen Vorträge werden auf Plakaten und mit Aushängen sowie auf der Homepage des IZWT (http://www.izwt.uni-wuppertal.de/) angekündigt. Um Beachtung dieser Informationen wird gebeten.
Lectures:
Wednesday 04/18/2012
Dr. Florian Schmaltz (Frankfurt): "Luftfahrtforschung unter nationalsozialistischer Besatzung im Zweiten Weltkrieg zwischen Kollaboration und Widerstand"
Wednesday 04/25/2012
Dr. Erik Curiel (Amsterdam): "On the Role of Energy Conditions in Spacetime Theories"
Wednesday 05/02/2012
Prof. Dr. Thomas Heinze (Wuppertal): "Varieties of scientific growth following the development of new instrumentation and the discovery of new matter"
Wednesday 05/09/2012
Dr. Michael Korey (Dresden): "Geometrie und Dynastie. Mathematische Instrumente zur Freude des Fürsten und zum Wohl des Landes"
Tuesday 05/15/2012, N.10.18
Prof. Dr. Carsten Reinhardt (Bielefeld): "Wissensgesellschaft - Historisierung und Konzepte"
Wednesday 06/06/2012
Dr. Wolfgang Pietsch (München): "Zwei Probleme der Induktion"
Monday 06/11/2012, O.11.40
Prof. Dr. Lambert Wiesing (Jena): "Phänomenologie und Philosophie der
Wahrnehmung"
Wednesday 06/20/2012
Dr. Monika Wulz (Braunschweig): "Die Thermodynamik der Gesellschaft. Zum Transfer naturwissenschaftlicher Methoden in Soziologie und Geschichte"
Tuesday 06/26/2012
Dr. Sabina Brevaglieri (Mainz): "Rom, Stadt der Wissenschaft: Wissensräume, Zusammenspiele, Zirkulationen im Zentrum der Katholischen Welt (1600-1630)"
Wednesday 06/27/2012
Dr. Ulrich Gähde (Hamburg): "Theorienabhängige Bestimmung von Basismengen"
Wednesday 07/04/2012
Susann Wagenknecht (Aarhus): "The Division of Epistemic Labour in Research Teams"
Wednesday 07/11/2012, G.11.01
Prof. Dr. Johannes Grebe-Ellis (Wuppertal): "Die Verallgemeinerung von Newtons experimentum crucis aus der Perspektive Goethes"