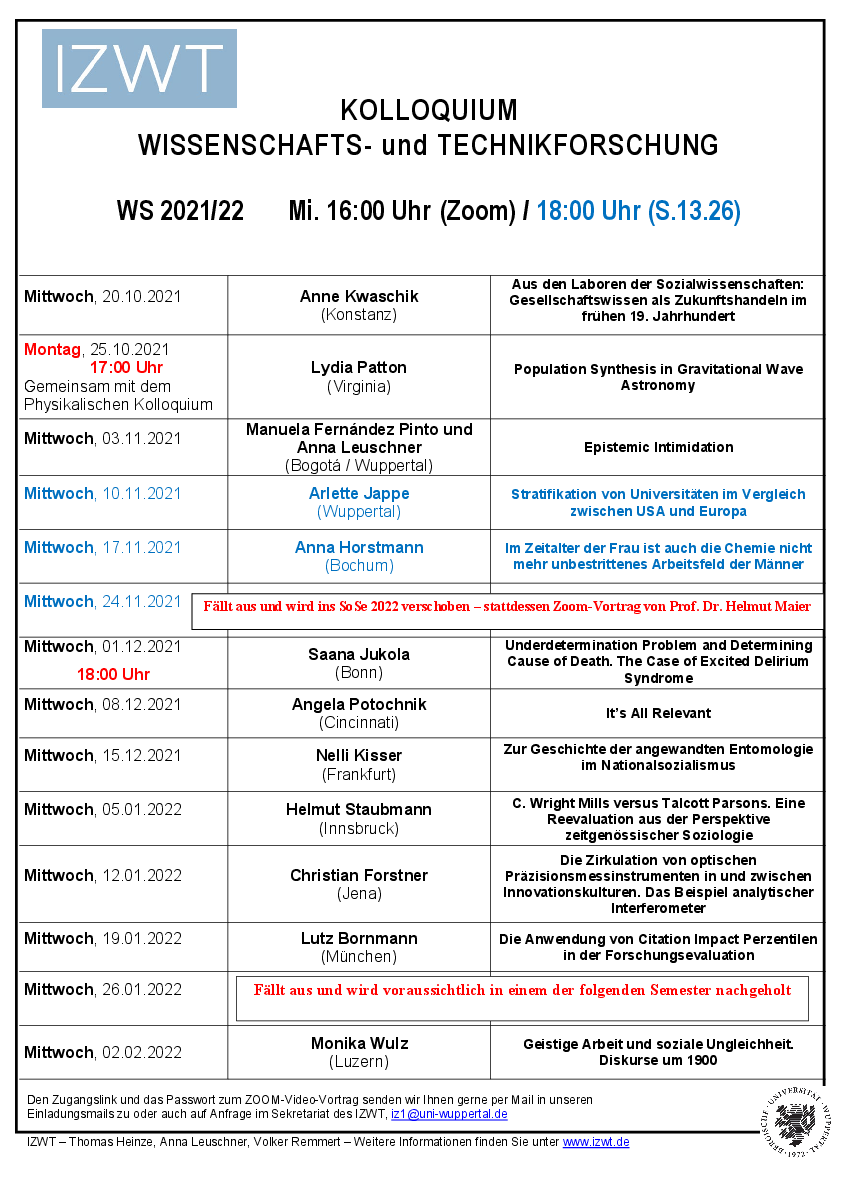 COLLOQUIUM SCIENCE AND TECHNOLOGY STUDIES
Thomas Heinze
Anna Leuschner
Volker Remmert
The IZWT colloquium presents lectures about current topics in science and technology studies. Each lecture of special guests from all over the world is followd by a discussion. You can find detailed information about lectures and lecturers on posters hung up throughout the university as well as published on the homepage of the IZWT.
---
LECTURES
Wednesday, 20.10.2021, 4 p.m.

Anne Kwaschik (Konstanz)
Aus den Laboren der Sozialwissenschaften: Gesellschaftswissen als Zukunftshandeln im frühen 19. Jahrhundert
Monday, 25.10.2021, 5:15 p.m. (together with Physics)

Lydia Patton (Virginia)
Population Synthesis in Gravitational Wave Astronomy
Wednesday, 03.11.2021, 4 p.m.
Manuela Fernández Pinto (Bogotá) und Anna Leuschner (Wuppertal)
Wednesday, 10.11.2021, 6 p.m.

Arlette Jappe (Wuppertal)
Stratifikation von Universitäten im Vergleich zwischen USA und Europa
Wednesday, 17.11.2021, 6 p.m.

Anna Horstmann (Bochum)
Im Zeitalter der Frau ist auch die Chemie nicht mehr unbestrittenes Arbeitsfeld der Männer
Wednesday, 24.11.2021, 6 p.m.

Frank Uekötter (Birmingham)
The Greatest Stumble on Earth: Überlegungen zu einer Wissensgeschichte der Monokultur
Rescheduled for summer term 2022!
Instead:
Prof. Dr. Dr. Helmut Maier (Wuppertal)
Zirkulationen: Kolonialgeologen, die Preußische Geologische Landesanstalt und das südwestafrikanische Kupfer (1850-1919)
Wednesday, 01.12.2021, 6 p.m.
Saana Jukola (Bonn)
Underdetermination Problem and Determing Cause of Death. The Case of Excited Delirium Syndrome
Wednesday, 08.12.2021, 4 p.m.

Angela Potochnik (Cincinnati)
Wednesday, 15.12.2021, 6 p.m.

Nelli Kisser (Frankfurt am Main)
Zur Geschichte der angewandten Entomologie im Nationalsozialismus
Wednesday, 05.01.2022, 4 p.m.
Helmut Staubmann (Innsbruck)
C.Wright Mills versus Talcott Parsons. Eine Reevaluation aus der Perspektive zeitgenössischer Soziologie
Wednesday, 12.01.2022, 6 p.m.
Christian Forstner (Jena)
Die Zirkulation von optischen Präzisionsmessinstrumenten in und zwischen Innovationskulturen. Das Beispiel analytischer Interferometer
Wednesday, 19.01.2022, 4 p.m.
Lutz Bornmann (München)
Die Anwendung von Citation Impact Perzentilen in der Forschungsevaluation
Wednesday, 26.01.2022, 4 p.m.
Ruth Müller (München)
Niemals genug Zeit? Zum Verhältnis von Temporalität und Normativität in den Peer Review Verfahren des ERC
Cancelled and rescheduled for one of the following semesters!
Wednesday, 02.02.2022, 6 p.m.
Monika Wulz (Luzern)