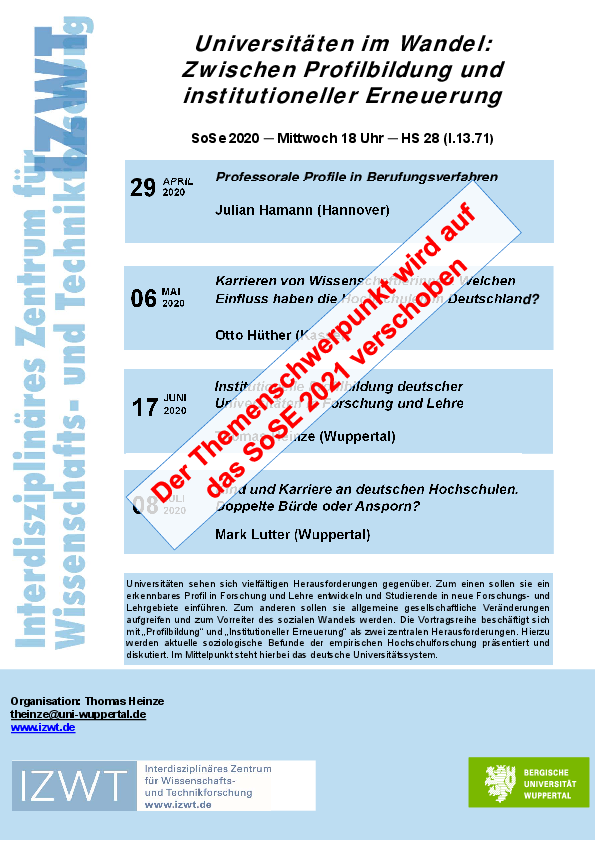 Universitäten im Wandel: Zwischen Profilbildung und institutioneller Erneuerung
Note: Considering the uncertainties of the coming months it was decided to postpone the thematic focus "Universities in the course of time" to the winter term 2020/21.
IZWT-RINGVORLESUNG SoSe 2020 ─ Mittwoch 18 Uhr ─ HS 28 (I.13.71)
Universitäten sehen sich vielfältigen Herausforderungen gegenüber. Zum einen sollen sie ein erkennbares Profil in Forschung und Lehre entwickeln und Studierende in neue Forschungs- und Lehrgebiete einführen. Zum anderen sollen sie allgemeine gesellschaftliche Veränderungen aufgreifen und zum Vorreiter des sozialen Wandels werden. Die Vortragsreihe beschäftigt sich mit "Profilbildung" und "Institutioneller Erneuerung" als zwei zentralen Herausforderungen. Hierzu werden aktuelle soziologische Befunde der empirischen Hochschulforschung präsentiert und diskutiert. Im Mittelpunkt steht hierbei das deutsche Universitätssystem.
Wednesday, 29. April 2020
Julian Hamann (Hannover)
Professorale Profile in Berufungsverfahren. Postponed to winter term 2020/21.
Wednesday, 06. Mai 2020
Otto Hüther (Kassel)
Karrieren von Wissenschaftlerinnen. Welchen Einfluss haben die Hochschulen in Deutschland? Postponed to winter term 2020/21.
Wednesday, 17. Juni 2020
Thomas Heinze (Wuppertal)
Institutionelle Profilbildung deutscher Universitäten in Forschung und Lehre. Postponed to winter term 2020/21.
Wednesday, 08. Juli 2020
Mark Lutter (Wuppertal)
Kind und Karriere an deutschen Hochschulen. Doppelte Bürde oder Ansporn? Postponed to winter term 2020/21.
Oraganisation by Thomas Heinze theinze@uni-wuppertal.de